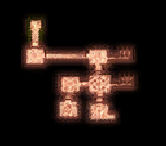 Stage-Select Name: Research Lab Le Chattlie
Map Name: Le Chattlie Research Lab

Difficulty: 10/10
Max Players: 8
Stage Requirement:
Plot Summary:
The Boss Features 2 Forms Form 1 Is a low like car:
AVOID TIP: When Transformed Into a Rusty Mini. Machine DO NOT PRESS A Or S To attack; IF so U Will explode losing a life
BOSS TIP: Staying Alive is up most important.When Losing a Life Chattlie Gains Health.

Form 2 Is Chattlie's true form:
Same TIPS: apply in this 2nd form as well
If Somone's Health is at 0 and Chattlie uses a reaction X slash lazer to the ground you will automatically be dead.
TIP: Keep moving at all times. Avoid losing health. Stay near Healers.
Ad blocker interference detected!
Wikia is a free-to-use site that makes money from advertising. We have a modified experience for viewers using ad blockers

Wikia is not accessible if you've made further modifications. Remove the custom ad blocker rule(s) and the page will load as expected.