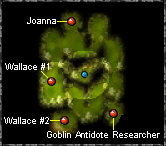 Stage-Select Name: Recluse Forest
Map Name: Recluse Forest

Giant Slime

Type:
Boss
Speed:
Slow
Attacks:
Ranged, Misc.

The Giant Slime boss of 1-3, the first boss of Lunia.
Map Name: Recluse Forest
Difficulty: 1/10
Level: 3 to 10 (speculation)
Party Requirement: Very Low
Max players: 4
Stage Guide
Edit
Nothing particularly hard about this stage, the stage is a circular track basically make you way clockwise, killing gatherings of slime/wolves.
There are 3 NPCs on the map:
One at the Start Point.
One at the Northern Peak of the Map.
One Just before you reach the start point once you made your run.
Theres a Life Water Fountain in the middle of the map, after killing the Green Slime before the stones, walk along the right side of the start area you sure see a path hidden abit in the trees.
My Character is too high level for the map so I can't tell if it has a quest or not.
Boss: Giant Slime
Edit
Just as easy as the one in Stage 1-3
Boss dataEdit
Difficulty: * *
Melee Attacks:
N/A
Ranged Attacks:
Single Direction Slime Blast
Multi Direction Slime Blast
Solar Blast
Misc. Attacks:
Giant Slime Spin Spawn
Ad blocker interference detected!
Wikia is a free-to-use site that makes money from advertising. We have a modified experience for viewers using ad blockers

Wikia is not accessible if you've made further modifications. Remove the custom ad blocker rule(s) and the page will load as expected.