These are the default shortcut keys for Lunia.

---
Directional Movement

UP - Move Character Up
DOWN - Move Character Down
LEFT - Move Character Left
RIGHT - Move Character Right
Diagonal Movement by combine above keys

Note : Numpads 1,2,3,4,6,7,8,9 work as movement keys too.
---
Attack Monsters

A - Basic Blow
S - Special Blow

Sieg - Upward Blow - Knocks Enemies airborne allowing you to perform aerial combos
Eir - Pentagram Light projectile
Dainn - Mana Charge - Make sure to hold "S" down to begin regaining mana
Slime - Summon Mini Slime projectile

SPACE - Downed Enemy Blow
---
Hotkeys

"1"-"0" - Set Skills, Potions, etc, to work when corresponding key is pressed
"QWERTY" - Alternate Keys for Hotkeys
---

Character Information Pages
http://img178.imageshack.us/img178/2500/imggamewin1ax2.gif
http://img178.imageshack.us/img178/7611/imggamewin2ni7.gif
http://img178.imageshack.us/img178/629/imggamewin3kn3.gif
C - Character Information
U - Change Camera Views
---

http://img182.imageshack.us/img182/8430/imggamewin4vg3.gif
L - Quest Log/Mission List
---

---

Chat/Pre-recorded Voice

F - Use Pre-recorded Voice
ENTER - Chat
---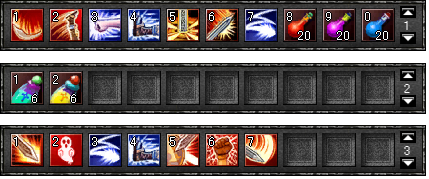 Quick Slots:

SHIFT+1 (SHIFT+Q) - 1# Quick Slots Bar
SHIFT+2 (SHIFT+W) - 2# Quick Slots Bar
SHIFT+3 (SHIFT+E) - 3# Quick Slots Bar
V - change Quick Slot page (#1 -> #2 -> #3)
---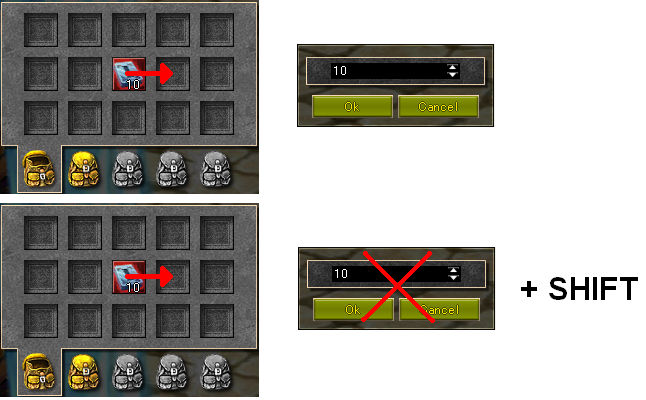 Pressing the [Shift] Key which clicking on another item will automatically move the entier stack of items.
---
Hold down [F3] in the Buy Window to buy items continuously.
---
If you want to unblock joining more players to party then click Close or X (don't press ESC in Stage Map window)
---
Others

F12 - Full screen/window mode

F1/F2 - Yes/No, Submit/Cancel
TAB - Chat mode/character move mode
PrtScr - Print Screen (take screenshot, can be found in your Lunia folder [X:\(cdcgame)\lunia\ScreenShots\CHAR NAME])
P - Change the method to locate your party members (number, name, number+name)
Ctrl + Left mouse button - View items inside a box
---
See also
---
See also
Ad blocker interference detected!
Wikia is a free-to-use site that makes money from advertising. We have a modified experience for viewers using ad blockers

Wikia is not accessible if you've made further modifications. Remove the custom ad blocker rule(s) and the page will load as expected.